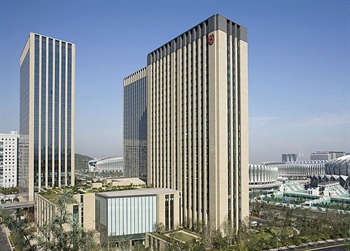 Sheraton Jinan Hotel is belong to the Marriott International, is located in Jinan's new eastern business district. Adjacent to the Jinan government office, you can see the Olympic sports center of "donghe xiliu" from the window.
Overlooking the new CBD Jinan, Shandong Museum is 15 minutes away by bike. The MIXC, Wanda Plaza, and Yudi Plaza, Center Plaza just 20 minutes away from hotel. You could easily reach to the square of Quancheng, Baotu Spring, Daming Lake and Qianfo Mountain.
Hotel transportation is very convenience, airport, railway station, Jinan East Station is just 30 minutes away from hotel.
The hotel has more than 400 comfortable, bright, spacious and spacious French window rooms and suites, fitness center, indoor and outdoor swimming pool, so that you can enjoy the experience of living at home.
There are four difference favorable restaurants in the hotel , which serve a broad selection of international menus, including Western, Chinese and Japanese cuisines. Exquisite cocktails are also on offer in the Connexions lobby lounge.
With over 3,500 square meters of luxurious banquet and conference space, it is the best place for you to host large conferences, corporate gatherings and romantic weddings.
Discover the power of perfect travel at Sheraton Jinan hotel.